PARTICIPATORY METHODOLOGIES
Quote Marte Taylor Bye, KUN: "The participants took part in front of and behind the camera, in montage, they learned about photography, they became admin for a facebookpage, guarding the exhibition, they organized the vernissage and finissage. Through this participatory work process and numerous activities, the participants have gotten to know each other well and form new networks."
The project started with a lecture presenting the work of the artist and a photo workshop.
COMMENTS ABOUT THE PROJECT
The experiences from both productions, "My home" and "Three ways of Framing" highlighted visual art as an alternative and successful step to get refugee - and immigrant women to "speak". Especially where there are language challenges present. Many of the participants spoke very little Norwegian and English. Some were illiterate and with this kind of visual projects they could easier participate on an equal basis with the others.
The project created nice meeting places and new networks, after completing the project it has been further developed. Both through social media and different presentations of the project. The participants have presented the project for others at conferences an so on. The question is whether socially oriented art projects can through alternative approaches, open up for a new understanding and other methods of integration - and thus give a positive change of current practice. A practice that is very little discussed for an growing group of people.
The challenge in interdisciplinary work is to protect a clear artistic goal. Not to take on too many tasks that are beyond the reach of art. Arts and Culture are conceivably more and more precieved like an engine in development of the society. The art can be "diluted" in favor of being an instrument for the government. The discussion of this development at the expense of the freedom of art and intrinsic value is still relevant. Quote Mary Jane Jacob; "It's ok to use art as an instrument, it depends on what you're using the instrument for."
QUOTES FROM KUN's REPORT
KUN's project "Familiegjenforente kvinner i distriktet" mapped the situation for immigrant women married to Norwegian men in the municipalities of Namdalseid and Verran. Through an interdisciplinary cooperation with artists we have tested how involving art processes can contribute in creating including meeting places and strengthen the integration of immigrants. The processes in these two district municipalities show positive results, and we point at some important criteria to succeed. Both art projects were characterized by an inclusive work method, with photography.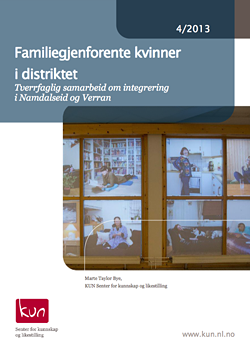 Both art projects were characterized by an inclusive work method, with photography as medium. An important principle has been that of letting the participants use their own resources and capacities, and that they have been given room both to initiate and to shape the contents of the project. In a perspective of integration, some success factors were that:

- Working with visual expressions makes communication across language barriers possible

- The activities had a high degree of participation

- The art project entailed several different joint activities, something which gave the participants time and possibility to get to know each other well
We claim that such an art production is unique in the common space it creates across communication barriers. Photography is a suitable medium of communication, which allowed everyone to participate, both in front of and behind the camera." Quote KUN's report from the project.
END QUOTE KUN'S REPORT. NOTE! The report is Only in Norwegian.
DOCUMENTARY (FIRST FRAMING)
MINIATURE PORTRAITS (SECOND FRAMING)
SELF PORTRAITS (THIRD FRAMING)
GUIDED TOUR IN VESTGRUVEN
LECTURE, PHOTO WOKSHOP, MEETINGS
PRODUCTION, EDITING, PRINT, PREPARING THE OPENING, INVITATIONS, SETTING UP THE EXHIBITION, LIGHTING, EXHIBITION OPENING ETC