NORWAY: Where do you prefer to walk? Why do you like to go on that particular trail? Some walk because they have to, while others walk because they want to.
Artist Brynhild Bye-Tiller invited several hundred young participants to participate in the project 100 METERS (2017-2018). They were given the task of filming themselves while walking the best short distance they knew and explaining why they preferred that specific trail. The artistic intention was to explore the area between public participation, participatory methodologies, movement and different kinds of documentary material.
1. Video selfies made by participants
In the period of November 2017 until May 2018, 18 schools, 30 groups and 400 students participated in the 100 METERS project by making a video with their mobile phone. The videos showed the participants when they walked their best 100 meters while filming themselves and explaining why. "Best" in this project was a short stretch that the participants had strong feelings about. Whether it was from their home to the rabbit cage, over the hillside to their horses or to the local shop to buy chocolate. The participants were given the opportunity to say something about themselves and about walking. It gave us (others) an insight into how they think and orient themselves in their surroundings. Thus, pieces of a Norwegian reality became visible. Topics like walking, borders, migration, identity were discussed in several two-hour workshops. The videos were collected and published online in an archive (www.100metervideo.no). An edited version were shown at Trondheim kunstmuseum Gråmølna during the art festival Trondheim open 2020.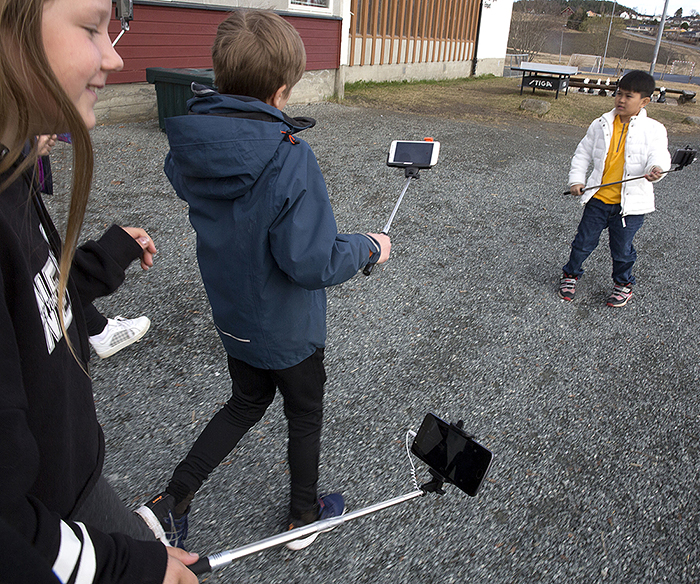 PHOTOGRAPHIC WORK BRYNHILD BYE-TILLER. Participants in the "100 Meters" project making video self portraits.
2. Exhibition
The results of the 100 METERS project were presented in an exhibition. All methods, elements, systems, opportunities, questions, confirmations, documentary material and new knowledge was presented. The participation was presented in form of digital videos, handwritten texts on paper and a video index. The documentary material were presented in form of colour photographs on paper, a text describing what happened during the workshops, objects (selfie sticks), a model made of paper depicting the participants wallking with selfie sticks and an artist's book with photographs and text.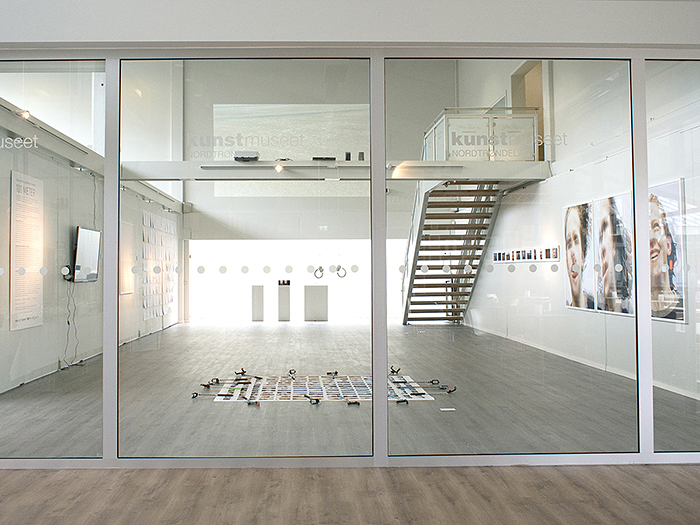 EXHIBITION. The 100 Meters project exhibited in Kunstmuseet Nord-Trøndelag 2018.
3. Photographic portraits of 12 participants at 12 different venues, Brynhild Bye-Tiller
Each school were asked to pick one student who represented the local area. One student (in some cases two and three) in 12 different places were portrayed. 4 girls and 11 boys. In a forest in Leksdal, Verdal, at a pedestrian crossing in Grong, on an artificial football turf in Stjørdal and other venues in Kolvereid, Lierne, Namsos, Namsskogan, Flatanger, Steinkjer, Inderøy, Leksvik and Levanger. Such photographic work provides an opportunity for a crucial and contact-creating meeting between artist and participants. A contact which is otherwise difficult to create with large groups of participants and short meetings. It also allowed the artist to collect a material within a system, compared to arbitrary selection of location and photographic objects.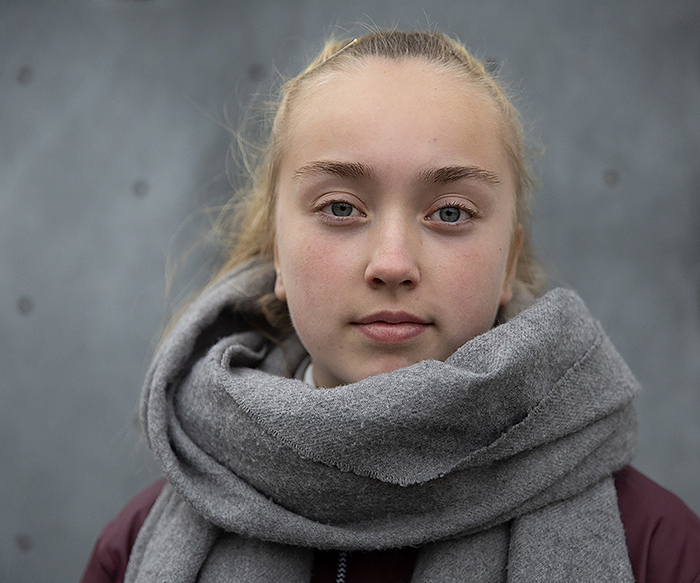 PHOTOGRAPHIC WORK BRYNHILD BYE-TILLER. One of 12 portraits of participants in the "100 Meters" project.



EXHIBITION 100 METERS

ONLINE VIDEO ARCHIVE

Exhibition period June 14 th - August 4 th 2018
Homepage: www.100metervideo.no
Venue: Kunstmuseet Nord-Trøndelag, Namsos (NO)


The artist's book "100 meters" (Opens in new window)


Feature and details: Size 33 x 28 cm, 56 Pages. 1 text and 32 documentary photographs. Color photography. Uncoated paper 100#. ISBN Hardcover, Glossy Dust Jacket: 9781388394752. Brynhild Bye-Tiller. Preview/Order: www.blurb.com/b/8762288-100-meter
US $116.39

Partners:
Main partner: Lisbeth Lein, the head of the Culture departement in Namdalseid municipality. Others: Kunstmuseet Nord-Trøndelag, local schools, teachers, municipalities, the County council, NTBUR and Den kulturelle skolesekken Nord-Trøndelag.

26 art works: 1 video work (70 min with video-selfportraits from children and adolescents who film themselves while telling about a short stretch they have strong feelings for), 18 photo works including 12 small-format color portraits and 1 documentary series, 1 book, 1 text-based work, 124 sheets of paper, 1 paper model, 1 photographic sculpture and 15 selfie sticks.

Documents:

Exhibition list front 2018 (NO)

Exhibition list back 2018 (NO)

Invitation exhibition 14.06.2018 (NO)

Invitation participation video 2017/2018 (NO)

Information to parents 2017 (NO)
PHOTOGRAPHIC WORK

Press and media

RADIO Trøndelag
Juli 2018

Dag og tid 30.06.2018

Namdalsavisa 13.06.2018
Namdalsavisa 11.06.2018

Trønder-Avisa 21.11.2017

Namdalsavisa 28.10.2017